The SELFHEALERS SOUNDBOARD is a global, community-based healing experience created by Dr. Nicole LePera and Jenna Weakland. Each week, we host raw, unscripted, open conversations about the things we are REALLY dealing with on the journey of facing our pasts and becoming our best Selves. Together, as community, we create resonance with "strangers" around the world as we collectively witness our own triggers, habits, traumas, and inherent wisdom. This is, and always will be, an ad free experience.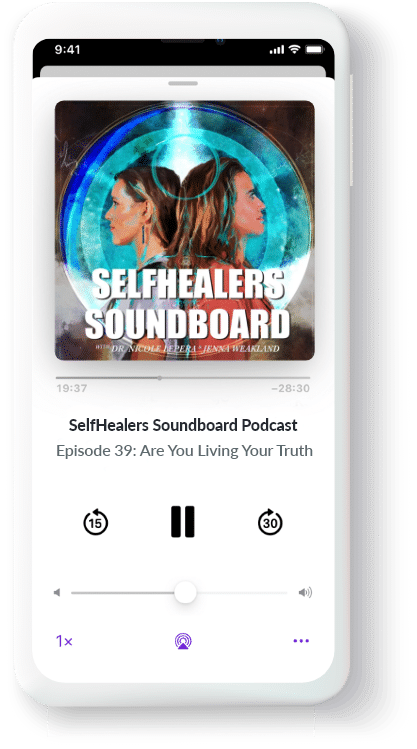 In this episode, we share what it's like to actually meet your inner child in daily life. You'll learn questions to bring you closer to…
I love these women! They feed my soul. Every episode is therapy to me and I love how raw and honest they are about themselves and their journeys. Makes me feel not so alone. We're all going through a lot of stuff.
This podcast is phenomenal! It has touched so many issues that have come up for me on my healing journey, and they've been addressed with great detail. The insight is given in such a real way. I appreciate the honesty and devotion you all give.I highly recommend this podcast to anyone wishing to develop a deeper relationship with themselves and others. Thank you!
Nicole and Jenna's podcast has changed me. I have been on the self healing/improvement journey for over 15 years (books, therapy, medication) and finally I have found something that just CLICKED. They have a way of communicating information that is straightforward and simple to follow. The whole time I'm listening my jaw is dropping with truth bombs I hadn't ever thought of. I am finally learning to love myself, react less to others and find some semblance of peace in my life. Plus there are no ads, they give this content freely and I'm so thankful. I recommend it to so many people now. Thank you ladies for sharing your gift with the world, words don't describe how much it means to me!
This podcast is EVERYTHING. I wish there had been something like this sooner. I have learned so much from this that there is no unlearning it. Nothing but growth, love and change. Thank you so much for this labor of love. I have so much gratitude.
Jenna and Dr. Nicole are absolutely wonderful to listen to, the way they compliment each other when exploring different topics is nothing less than brilliant! I am blown away by the generous way this podcast has been rolled out, just like all of The Holistic Psychologist's content... the main focus is to encourage self healing! I appreciate that I am supported by the podcast as I read, How To Do The Work! Thank you both for aiding in the collective shift in consciousness! ~ Much love, Leah Abraham
The amount of healing this has given me is so profound! For a single mother who desperately wants to heal my inner child so I can be a better mother, friend & partner, this podcast has been invaluable. It's so hard to find time for active inner healing while raising children & this podcast has been life changing!! Thank you so much for everything you do!! ❤️
Not only do Nicole and Jenna speak from personal experiences but from a place of authenticity. I can appreciate that there are different topics that I can listen to or go back to if I am struggling with one in particular. This show is encouraging as well as inspiring. I've read the book which I enjoyed immensely. I recommend it all of the time. It has definitely helped me in my journey. Happy to say I brought it for my younger sister. Your value to the mental health field is one that is unparalleled. I look forward to what's next. Thank you 💛
Really love the insights and raw honesty. Both Dr Nicole and Jenna are incredibly wise, old souls, but only after doing 'the work.' I so appreciate the way they continue to talk about the journey, even for themselves. I joined the Self Healers circle (recently), but really appreciate that so much is available and free to all. Thank you! 💜
This is hands down one of the best podcasts out there for those who are wanting to do work on themselves. This work has been groundbreaking for me. I am so thankful for this free resource. Also, no ads! Huge bonus! ❤️ Thanks so much to Dr Nicole & Jenna.
The self healers podcast is by far the most helpful, relatable and useful content I've heard in a long time. The episodes are perfectly aligned with what I need and want to hear discussed. The conversations are meaningful and spark those "ah-ha!" moments. I truly appreciate Nicole + Jenna sharing this with the world. It is so unbelievably needed by so many people. Please know what a difference you are making on a micro and macro level! It is an honor to feel included on your journey and knowing I'm never alone. 🙏🏼✨
I am a 23 year old man and I just graduated from college. My dad was the one who showed me this podcast and I didn't think much of it when I started out listening, but once I got to Episode 3 of Season ,1 something clicked for me. I now have incorporated the soundboard into my daily life. I am still at the very beginning of my journey, but I am so excited to keep on going.
This is the only podcast I keep up with these days. I've been following them since they started going through the book "How to Do the Work", and am in awe of watching the unfolding, the blooming, the spreading of their wings as community comments and podcast topics weave one thread over the other. The result is an epic dance of skillfully attuned experts in concert with an adoring, authentic, compassionate, and growth-oriented community. I feel like I'm part of something just to bear witness. I downloaded the app just to leave this review as an artifact of how impacted I have been to find refuge in this team's steadfast care. And so to the team I say, thank you. And to you listeners who are seeking content, I welcome your eyes and ears to stay, as you feel called to listen.
I cannot even begin to tell you how helpful Nicole and Jenna's podcast has been for me. As a long time follower and fairly new member of the SelfHealers Circle, I've immersed myself quickly into my healing journey. I've listened to nearly every single episode of this podcast and they're so good! I feel like I can relate to many of the feelings that the two of them share. Jenna's honesty and openness about feelings of self doubt after receiving negative comments in the latest podcast on Forgiveness really resonated with me. I have noticed many patterns of self criticism within myself and hearing her share this has allowed some of these feelings to come to light for me. This has led me to feel kinder to myself and begin to forgive myself and others. I'm forever grateful for the Self Healers Sound board as well as the circle. I can't wait to see what the future of this podcast has in store!